Play in the 32Red Casino Daily Live Games Gala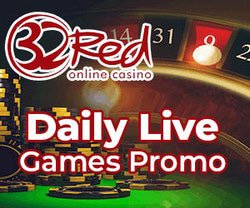 Tues. Aug 21, 2018
Live games are the latest trend at online casinos and to bring you closer to this enthralling craze, 32Red Casino is inviting all players to come and indulge in their latest promotion on offer.
So take your in the live casino and enjoy some of the most exquisite games you could win up to £500 daily in the Daily Live Games Gala online promotion.
How to enter the Daily Live Games Gala Promo
The Daily Live Games Gala promo will be open until August 31, 2018, so there is still plenty of time to play for your share of prizes. Each day, players can win up to £500 just by playing at 32Red Casino. Simply register for the promo at 32Red Casino and play any live casino games, except baccarat.
Prizes Up For Grabs
During the Daily Live Games Gala you will earn 1 point on the leaderboard for each £10 wagered on the selected games. Each day there is a prize pool worth £2,000 on offer where you can collect your share of prizes if lady luck is on your side. The smallest prize is worth £5 while the top prize will make your day and will gift you £500. All in all, 50 lucky players will receive a share of cash prizes to take home. 32Red Casino players can also play on the mobile casino platform to win on the go.
General Terms and Conditions
All wager made in other currencies will be exchanged to GBP. Practice or guest players do not participate. Non-GBP players will obtain the equivalent reward in the currency they select.
Every day a new leaderboard will be available. All players who opt in will be included on every daily leaderboard.
All daily leaderboard cash rewards will be credited to winning players on the following day before 5 pm (UK Time).
32Red Casino reserves the right to withhold any prizes from players who try to gain an advantage during this promo by using low-risk betting.
This promo is restricted to one cash prize per player per household.
32Red Casino my at sole discretion control the number of qualified players whom can partake in this promo, for any reason whatsoever without notifying the end users. The casino's decision will be considered final in the event of a dispute and no correspondence will be entered into.
32Red Casino has the right to alter or terminate this promotion at any given time for any reason without giving notice to the end users, using fair attempts to deliver such notice in advance.