Play in 32Red Casino's 5K Winter Wonderland Leaderboard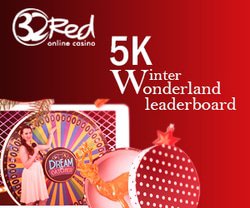 Wed. Dec. 12, 2018
Players will be in for a lucrative treat this festive season while playing at 32Red Casino thanks to five remarkable promotions throughout the month of December.
For those that are always looking for the ultimate Christmas promotions this time of year will be pleased to discover that 32Red Casino has gone out of their way to provide its loyal players with five remarkable promotions throughout the month of December. This means that players will be treated to monthly, weekly, and even daily prizes which will be stocked with instant cash prizes, free spins, bonus money, and an assortment of lucrative gifts that will surely leave players on the edge of their seats.
Each and every one of these Christmas promotions offered at 32Red Casino is available on the no download platform which means players don't have to download any software to partake in these amazing offers - simply visit the instant play platform at 32Red Casino and register an account to celebrate the festive season with five promotions, starting with the 5K Winter Wonderland Leaderboard:
5K Winter Wonderland Leaderboard
The first Christmas promotion that players can look forward to at 32Red this festive season is the 5K Winter Wonderland Leaderboard that will be available from 24 December 2018 up until 2 January 2019. During this exciting promotion, players will need to accumulate points on the phenomenal live dealer game known as Dream Catcher. Players will be awarded 1 point for every $10 they manage to wager which will allow them to climb the leaderboard where they stand a chance to win their share of $,5000 in cold, hard cash.
32Red Xmas Advent-ture Promotion
Players will get the opportunity to locate their old stockings and play a selection of classic Christmas tunes while participating in the Xmas Advent-ture promotion at 32Red Casino. This exclusive promotion is already in full swing and will continue until 25 December 2018. During the month of December, players will be showered with an array of free spin offers on a daily basis, ranging from 5 free games up to an unbelievable 500 free games. The selection of slots included in this promotion includes Icy Gems, Six Acrobats, Astro Legends, Reel Talent, and Karaoke Party.
Build a Xmas Tree Promotion
Players that enjoy decorating a Christmas tree but don't have the patience to deal with the tinsel and ornaments that go along with it will instantly fall in love with 32Red's Build a Xmas Tree promotion as players merely need to enjoy their favourite casino games to build an Xmas tree at the casino. While enjoying a selection of favourable casino games, players will accumulate loyalty points which will lead to lighting up 20 Christmas tree decorations while being treated to three free spin offers along with the opportunity to win up to $500 in bonuses at the casino. Players simply need to sign-up for a 32Red Casino bonus during the month of December to ensure they don't miss out on all the fun.
Big Car-ristmas Giveaway Promotion
The Big Car-ristmas Giveaway promotion at 32Red Casino will start on 7 December 2018 and will last until 1 January 2019, giving each participating player loads of time to win a brand spanking new car this festive season. However, the giveaway doesn't stop there either as 32Red Casino will also award the second player on the leaderboard with $3,000 in bonuses, while the players ranked from 3rd to 100th will receive their share of $10,000 in bonuses.
2K Daily Sleigh Promotion
The 2K Daily Sleigh promotion at 32Red Casino will provide players with the perfect opportunity to jump into their sleighs and enjoy an assortment of bonus slopes to win their share of $2,000 in bonuses from 10 December 2018 until 3 January 2019. Players merely need to opt into this exclusive promotion at 32Red Casino and play their favourite casino games to climb the leaderboard where the first prize is worth a jaw-dropping $500 in bonuses.